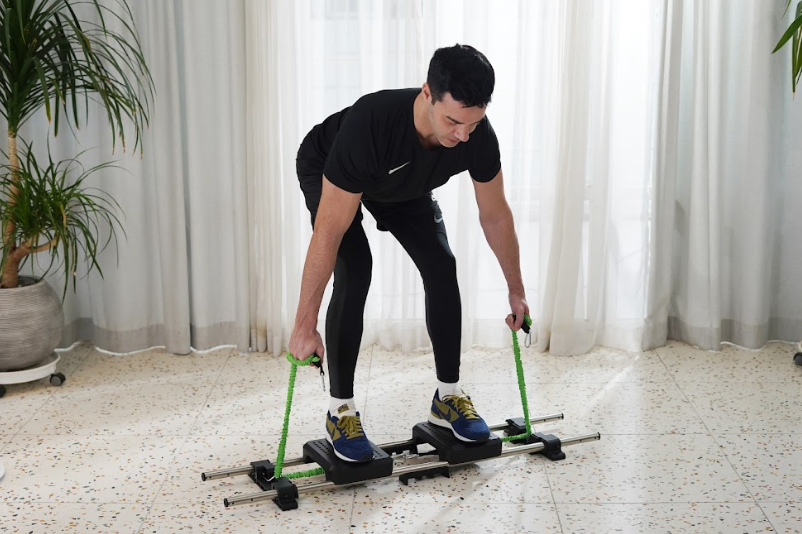 "Muscle Rail Board," the noise-conscious home gym made by sports equipment manufacturer "DESIGN5014 Co. LTD," launched last month on Kickstarter.
Have you ever tried to workout at home, only to find yourself the target of a never-ending torrent of noise complaints? No matter how hard you try to keep the noise down, if a workout device isn't designed with this aspect in mind, then there's not much that can be done.
But Muscle Rail Board uses latex loop bands for a quieter workout. You can also use the device like a pilates reformer to perform difficult adductor exercises, and even exercises like Kegels, all while you're at home.
When you want to change the intensity of your workout, simply adjust Muscle Rail Board's band length by using the latches on the straps and dock. Muscle Rail Board is compatible with a variety of exercise products, so you can use all kinds of resistance bands to switch up your exercises for a wide range of exercise intensity.
Muscle Rail Board's product design is quite simple. The main design features an ABS plastic board and dual-platforms placed above two pipes. The product also features sturdy and reliable stainless-steel pipes for the guide rails, and the bottom of the product is coated with a nonslip finish to ensure safety while you exercise.
There's even a set of noiseless wheels that you can use with Muscle Rail Board. The noiseless wheels make Muscle Rail Board great to take with you when you're on the go, just like an ab roller. Also, the rolling component of the sliding board is detachable, and the sliding board's noiseless wheels let you use the product on rugs and carpets. Feel free to take Muscle Rail Board with you to work, or to your next travel destination, and rest assured that you won't be hearing any noise complaints while you're working out.
The key to Muscle Rail Board's design is the sliding board's 4 roller wheels. The rollers are concaved on top of the Muscle Rail Board's parallel pipes, allowing for a smoother range of motion. Plus, the holes at the ends of the guard rail pipe are adjustable, so you can assemble and disassemble the product with ease. This also adds an element of compactness and lightness to the product for more convenient storage.
Muscle Rail Board is available now on Kickstarter, where you can find it at a discounted price. Muscle Rail Board was fully funded in less than 2 days, and is expected to revolutionize the way we work out at home.